From the romantic to the absurd, wedding comedy movies will raise a smile. Here are our top 5 wedding comedy movies of all time:
Philadelphia Story (1940)
Director: George Cukor
Starring: Cary Grant, Katharine Hepburn, James Stewart, Ruth Hussey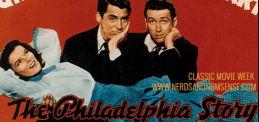 The Philadelphia Story is a classic of wedding comedy movies. Set in 1930s upper class Philadelphia, it is the eve of a headstrong socialites marriage to a dull man. She jousts verbally with her charming ex-husband, drinks too much champagne and flirts outrageously with a handsome reporter. This irreverent wedding comedy features excellent lead performances from legendary stars of the screen aided by a fabulously witty script and brilliant direction from George Cukor.
The Princess Bride (1987)
Director: Rob Reiner
Starring: Cary Elwes, Robin Wright, Mandy Patinkin, Chris Sarandon, Christopher Guest, Wallace Shawn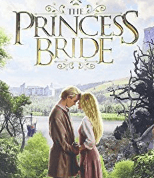 The Princess Bride is an ingenious, intelligent mix of adventure, romance and comedy that takes the traditional damsel-in-distress story and breathes into it new life. Robin Wright and Cary Elwes star as the beautiful princess and the gallant hero who rescues her from an evil villain. It is a delightfully post-modern and enchanting fairy tale classic and one of the top wedding comedy movies that everyone in the family can enjoy.
Four weddings and a funeral (1994)
Director: Mike Newell
Starring: Hugh Grant and Andie MacDowell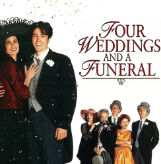 Written by Richard Curtis, this popular wedding comedy is about a young Englishman whose confirmed avoidance of marriage begins to crumble when he meets the woman of his dreams who seduces him during a wedding at which he is supposed to be the best man. Four Weddings and a Funeral features some great comedy performances from an all star cast, earning its top place in the wedding comedy movies list.
Monsoon Wedding 2002
Director: Mira Nair
Starring: Naseeruddin Shah, Vasundhara Das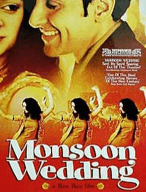 A charming family drama about a very chaotic Indian wedding. Lalit Verma is a wealthy father who is trying to see that his daughter Aditi's wedding goes off without a hitch. Though familiar with Western ways, he has little patience with them and determined to oversee a traditional wedding. Disillusioned with her long time relationship with Vikram, Aditi suddenly agrees to submit to an arranged marriage with Hemant, an engineer from Houston, but as the wedding date nears, she gets cold feet and returns to see Vikram, which could be a disaster for everyone. Meanwhile, Aditi's beautiful young cousin Ayesha has her sights set on Rahul, another relative who is a college student in Australia. At the same time Rai, another of Aditi's cousins, has a shocking revelation to make.
An insightful, energetic blend of Hollywood and Bollywood styles, Monsoon Wedding is a vibrant celebration of modern-day India, family, love, and life. Monsoon Wedding won the Golden Lion award at Venice.
Wedding Banquet (2004)
Director: Ang Lee
Starring: Winston Chao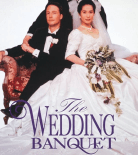 A gay New Yorker, Gao Wai Tung, stages a marriage of convenience with a young woman to satisfy his traditional Taiwanese family in this warm-hearted comedy, which centres on the farcical confusion that emerges from this deception. Having never shared the truth with his family, Wai Tung attempts to disguise his long-term relationship with his lover Simon by marrying Wei-Wei, a young artist who agrees to the arrangement as she needs a green card. Skilfully directed, this funny and ultimately poignant comedy of manners comes from the contrast of Wai Tung's parents showing up to plan a massive wedding banquet versus the sham nature of the wedding. The wedding banquet spins out of control, leading to a series of events that threatens all of Wai Tung's relationships.